The Ministry of Education, Science, Culture and Sports of Montenegro, in cooperation with the Central European Initiative (CEI) and with the support of NI4OS-Europe project, organized on July 8, 2021 an online event on the introduction of Open Science in Montenegro. The event was organized in the context of Montenegro's current presidency of the Central European Initiative (CEI).
The 25 participants had the opportunity to learn about the current status of Open science in Montenegro, the NI4OS-Europe project and how it supports the development of National Open Science Cloud Initiatives, the Open science legislation and best practices in Netherlands and Serbia, as well as how the legislation in Montenegro could be amended to support Open science.
Welcome speeches were given by Mr. Veljko Milonjic, Director General of Directorate General for Multilateral Relations and International Legal Affairs at Ministry of Foreign Affairs, Government of Montenegro, and Mr. Goran Drobnjak from the Ministry of Education, Science, Culture and Sport.
On behalf of NI4OS-Europe the following presentations were delivered:
"Open science in Montenegro", Enis Kočan, University of Montenegro
"How NI4OS-Europe project supports Southeastern Europe (SEE) region to ensure inclusiveness on the European level for enabling EOSC", Ilias Papastamatiou, National Infrastructures for Research and Technology (GRNET), Greece
"Supporting EOSC inclusion through the setting up national OSC initiatives", Eleni Toli, Project director of NI4OS-Europe project, ATHENA RC, Greece
"Serbia: policy and legislation in support of open science", Biljana Kosanović, University of Belgrade, Serbia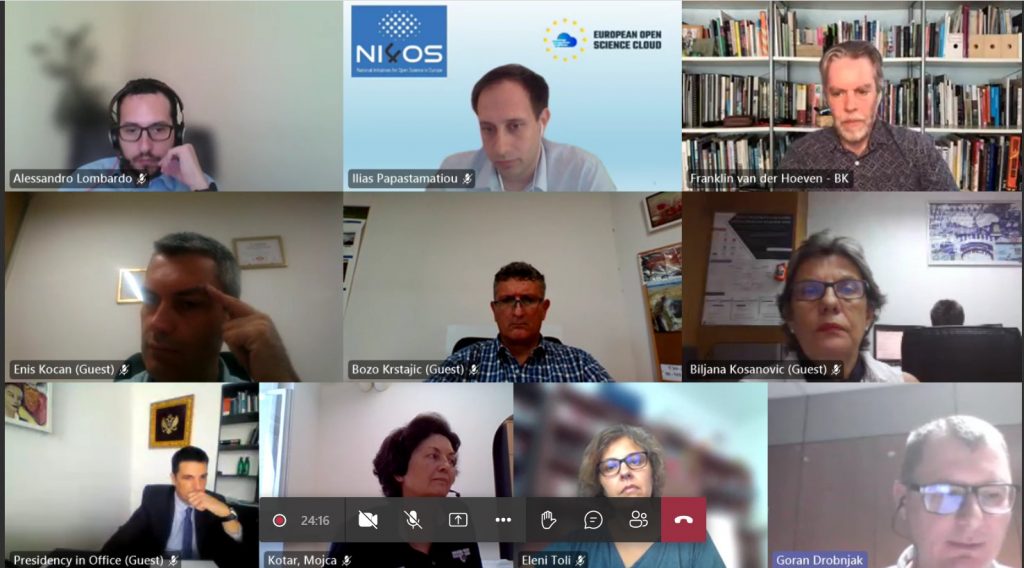 During the discussion, Mr. Alessandro Lombardo, Senior executive officer at CEI Executive Secretariat (CEI-ES) stressed out that he is pleased that Montenegro has chosen Open science as topic of focus during its presidency of the CEI and that Open science will continue to be a topic of CEI interest.
In conclusion, progress has been made with regard to Open science in Montenegro, mostly due to the work done by the University of Montenegro (UoM) and the former Ministry of Science; the National Open Science Cloud Initiative is in process of signing, as a result of UoM and NI4OS-Europe project collaboration, and the Ministry of Education, Science, Culture and Sport is expected to take steps towards implementing actions described in the strategic document "Programme of Implementation of Open Science Principles in Montenegro with Action Plan (2020-2022)".
Relevant links: