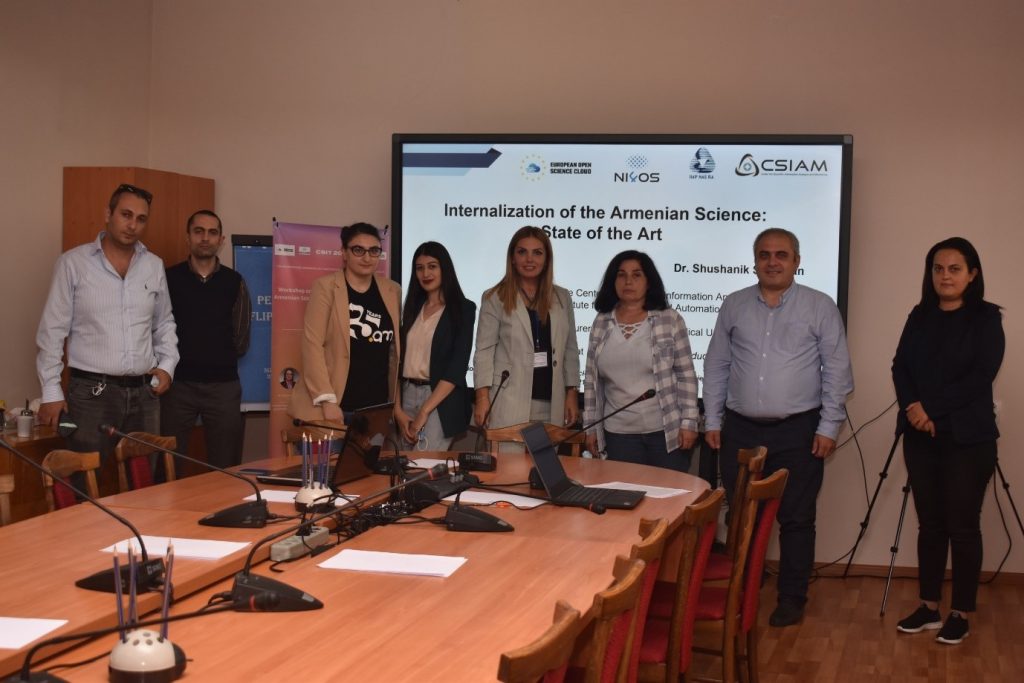 European Open Science Cloud and NI4OS-Europe project were successfully presented at the International Conference on Computer Science and Information Technologies (CSIT-2021), the thirteenth in a series of biennial conferences organized by NI4OS project partner, Institute for Informatics and Automation Problems of the National Academy of Sciences of the Republic of Armenia (IIAP).
The Conference has been supported by the National Academy of Sciences and the State Committee of Science of RA and covered a wide range of topics in the field of Computer Science and Information Technologies, such as Computing Models and their Applications, Artificial Intelligence and Machine Learning, Telecommunications and Networks, Cloud and High-Performance Computing, Big Data and the Internet, etc. The three days of main sessions were followed by two days of workshops in specific areas, gathering wide audiences.
The conference featured a dedicated workshop on the "Internationalization of the Armenia Science: Challenges and Solutions". The hybrid format of the event empowered the projects' European partners to actively participate and give presentations on the latest developments in global European Open Science commons and its current statute. Anastas Mishev (Ss. Cyril and Methodius University, Republic of North Macedonia) presented in detail the history behind the European Open Science Cloud initiative and FAIR principles, current EOSC Governance, its benefits for research community, as well as upcoming activities. Ilias Papastamatiou (National Infrastructures for Research and Technology – GRNET, Greece) presented NI4OS-Europe project activities as core contributor to the EOSC service portfolio to support partner countries enabling EOSC, as the inclusion of different regions and geographical coverage is important. As mentioned by Ilias Papastamatiou, one of the objectives of NI4OS is to support the establishment of National Open Science Cloud Initiatives in partner countries. And with the great support of NI4OS- Europe project partners, Armenian OpenAIRE NOAD is already built and integrated into the pan-European OpenAIRE network.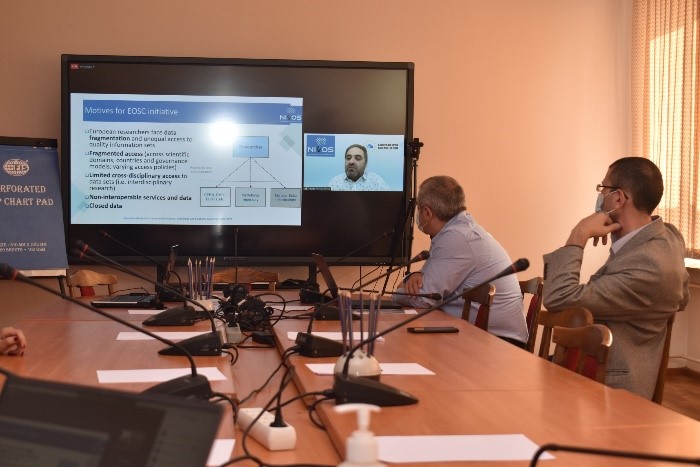 Hrachya Astsatryan, the director and head of the Center for Scientific Computing of IIAP, presented the prerequisites that were on board to make possible the National Open Science Cloud in Armenia and the vision based on six pillars, which would build up an ecosystem for future initiatives.
Afterwards Dr. Shushanik Sargsyan, Head of the Center for Scientific Information Analysis and Monitoring at the IIAP, presented state of the art of the internalization of the Armenian science: the challenges at this step and the solutions they offer.