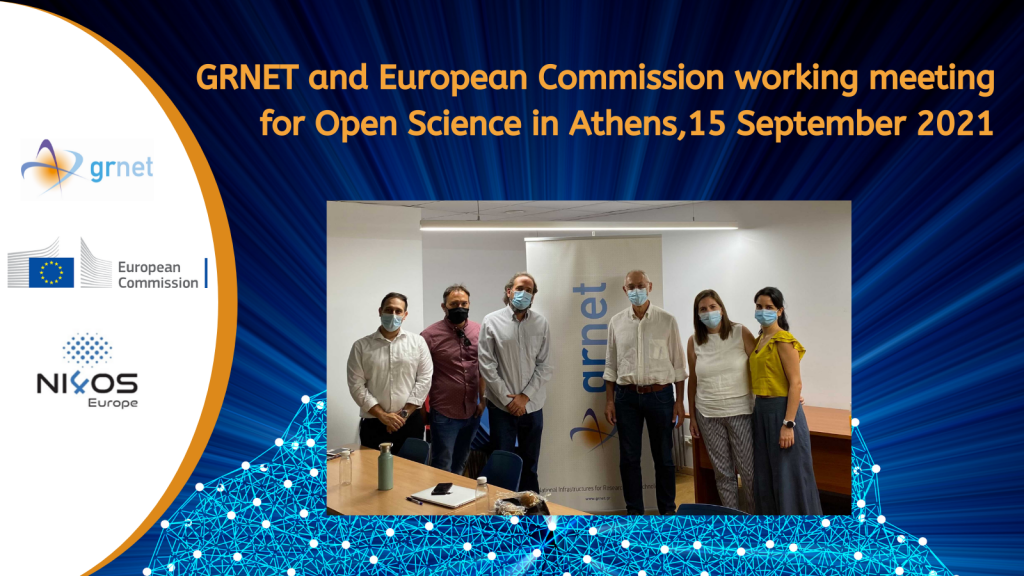 GRNET welcomed today September 15th, at its Athens premises, Dr. Konstantinos Glinos, Head of Unit for Open Science of the Directorate-General for Research and Innovation of the European Commission.
The main topic of discussion was the implementation of initiatives and actions for Open Science at national and European level, such as the European Open Science Cloud (EOSC). Dr. Glinos referred explicitly to the European Commission's vision for Open Science. GRNET presented its role in promoting Open Science at national, regional and European level through the coordination and participation in a number of research projects and services. GRNET is the main provider of e-Infrastructures and services for Open Science in Greece and a pioneer in a coordinated effort for the development of e-Infrastructures and services in Southeastern Europe. The EC funded NI4OS-Europe project that GRNET coordinates, actively supports 15 countries in the SEE region in their participation into the EOSC ecosystem, the creation of the National Open Science Cloud Initiatives, as well as their contribution to the EOSC service portfolio.
GRNET chairman of the board of Directors, Prof. Stefanos Kollias highlighted the systematic cooperation of GRNET with the European Commission in the field of Open Science, stating that "GRNET's e-Infrastructures and services for research, and also its highly skilled professionals, specialised know-how and experience in the field of Open Science, have constituted GRNET for Greece, a reliable Open Science initiatives' partner and supporter at European and South Eastern Europe in particular".
Dr. Glinos stated that the practices of Open Science will improve the efficiency and reliability of scientific research, adding that "open science is also a better science". He also referred to the prerequisites for the opening of science, meaning the reform of the evaluation criteria of research and researchers and the development of appropriate digital skills and data infrastructure (e.g. EOSC), while congratulating GRNET for its accomplishments and pioneering role in the digital transformation of science.
Dr. Ognjen Prnjat is honored to accept the exceptional invitation to become one of the two European Commission's representatives in the Open Science Working Group for G7.