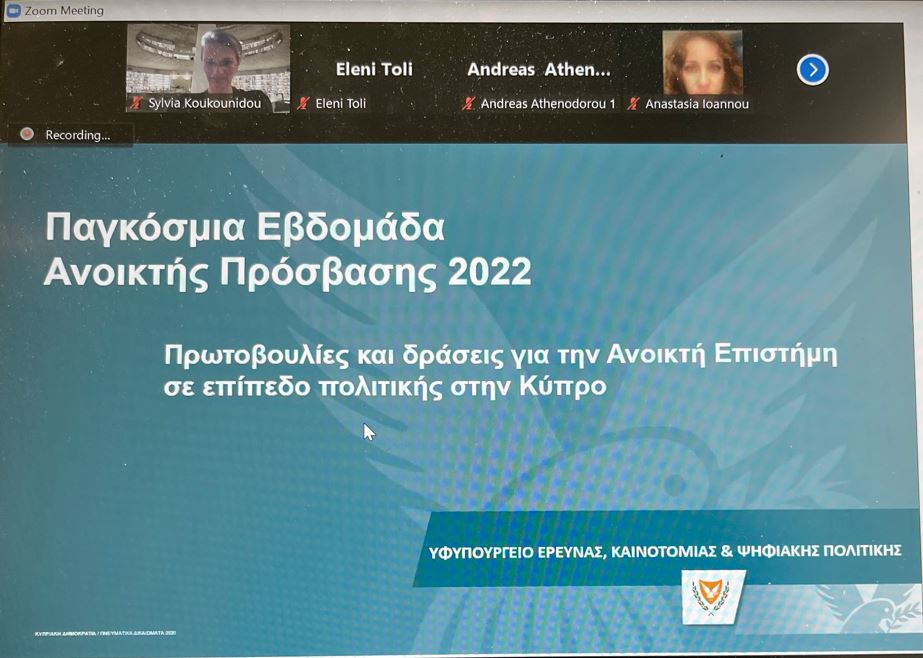 One more successful dissemination event was organised by the University of Cyprus Library, during the International Open Access Week 2022. As a partner of NI4OS-Europe, the library hosted the event entitled "Developments on Open Science: the role of NI4OS-Europe" on the 26th of October 2022.
The agenda of the event included presentations about the European Open Science Cloud developments and NI4OS Europe role and actions, held by Eleni Toli, NI4OS-Europe Director, policy level actions and initiatives for Open Science in Cyprus by Lina Tsoumpanou, representative of the deputy ministry of Research, Innovation and Digital Policy, an overview of users' engagement in NI4OS-Europe landscape by Andreas Athenodorou from the Cyprus Institute and a topic for best practices and tools for data management: OpenAIRE και NI4OS-Europe contribution presented by Elli Papadopoulou from Athena Research Center.
The event was kicked off with an introduction by Sylvia Koukounidou (UCyLib), who also welcomed the speakers and audience.
In this two and a half-hour event, the participants were able to get all the necessary updates regarding current status and future plans of Europe about EOSC but also the developments of Open Science in Cyprus and how the new policy is expected to be implemented. The participants had also the opportunity to hear about the actions of NI4OS Europe for the Users' engagement aspect and to get informed about FAIR pronciples and services developed and are now available for use from several stakeholders for data management and other Open Science aspects.
Discussion and Q&As: The presentations were followed by a Discussion and Q&A session and the participants were able to ask questions and clarifications on the topics presented.
Slides and recordings of the webinar can be found here.