Slovenian NI4OS-Europe partner, the University of Maribor Library, participated in the LIBER 2022 annual conference, held at the University of Southern Denmark in Odense, Denmark, between 6th and 8th July 2022.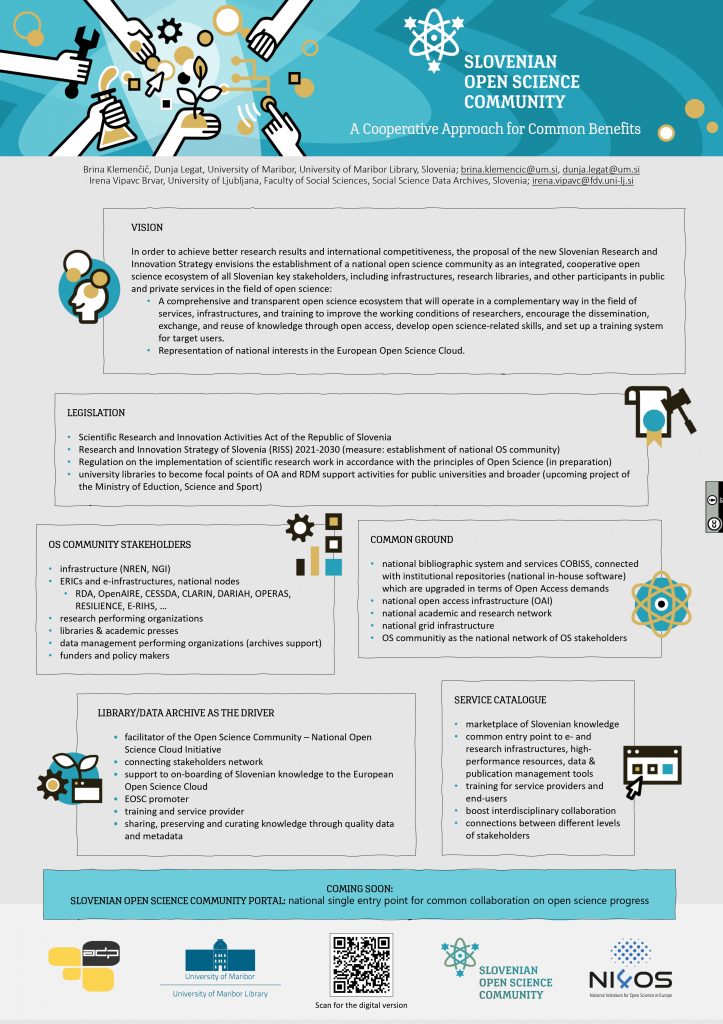 In collaboration with the Slovenian Social Science Data Archives, UMUKM presented a poster about the benefits of the emerging Slovenian national open science cloud initiative, The Slovenian Open Science Community: A Cooperative Approach for Common Benefits, by authors Brina Klemenčič and Dunja Legat from the University of Maribor Library and Irena Vipavc Brvar from the Social Science Data Archives. The poster presented the vision, the legislative framework for open science in Slovenia, the common ground of the various national open science stakeholders and how libraries and data archives can act as drivers in leading a national open science community and coordinating its activities.
As this year's annual LIBER conference theme was Libraries in the Research and Innovation Landscape — Supporting, Partnering, Leading, a special segment was devoted to the EOSC.
Following the keynote speech by Karel Luyben, the European Open Science Cloud: the road ahead, Dunja Legat, director of the University of Maribor Library and Slovenian EOSC promoter, took part in the panel session Supporting EOSC: Putting Institutions in the Driving Seat, alongside Sarah Jones, Pedro Príncipe and Irena Vipavc Brvar from EOSC Future. Her talk Institutional perspective – policies, workflows, outreach and training presented the use case of the University of Maribor Library and its efforts in being a driving force of open science, EOSC and the FAIR principles in its local and national environment through infrastructure, service and content provision, training and upskilling, as well as community building in the form of NOSCIs.
Libraries are trusted partners in the research field and can lead the way by developing innovative partnerships and supporting research via sharing best practices, fostering communities, and providing tailored services. Libraries are also increasingly recognised as key partners in research through their participation in organisations such as LIBER and by being present and represented in national and international initiatives like the European Open Science Cloud (EOSC) and several Horizon Europe 2020 projects. As a result, research libraries play a growing role in the research and innovation landscape for the benefit of their research community.
Links:
Klemenčič, Brina, Legat, Dunja, & Brvar, Irena Vipavc. (2022). The Slovenian Open Science Community: A Cooperative Approach for Common Benefits. Libraries in the Research and Innovation Landscape (LIBER 2022), Odense, Denmark. Zenodo. https://doi.org/10.5281/zenodo.6806621
Brvar, Irena Vipavc, Jones, Sarah, Principe, Pedro, & Legat, Dunja. (2022). Supporting EOSC: Putting Institutions in the Driving Seat. Libraries in the Research and Innovation Landscape (LIBER 2022), Odense, Denmark. Zenodo. https://doi.org/10.5281/zenodo.6818021