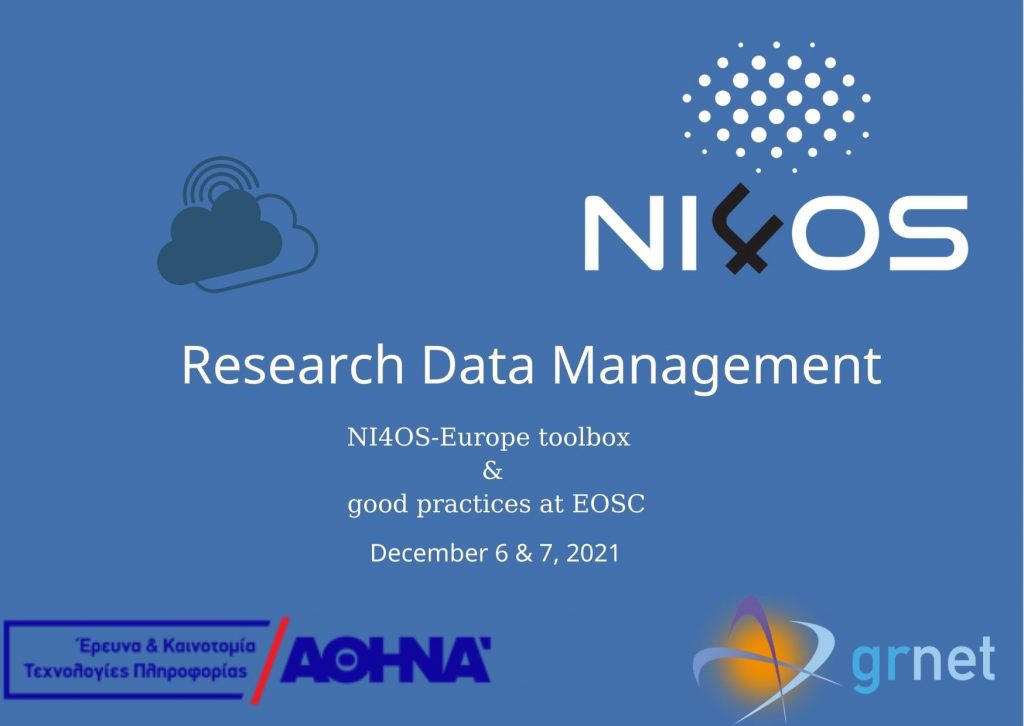 ATHENA RC, in collaboration with GRNET are organizing a 2-day training webinar on 6-7 December 2021, aiming at building capacity in the Greek research area by providing researchers with the necessary information, tools and guidance on Open Science, FAIR Research Data Management and the EOSC.
The training will communicate the Open Science and FAIR principles in a simple way that acknowledges the challenges yet aids implementation in order to comply with the equivalent EC requirements. It will also showcase how EOSC services and offer can be used on different occasions, contributing to its uptake and the development of digital competences for science.
The training is designed according to Research Data Management Lifecycle (RDML) workflows and adopts a modular approach to highlight the policy requirements and corresponding best practices for each RDML step. Moreover, each step is broken down into theoretical presentations, demos of apt tools and services, and more practical activities via mini assignments.
This NI4OS-Europe event falls under the national capacity building series. It mainly targets researchers, but research organizations and organizations who are interested in seeing under what conditions their results and data can be made available through the EOSC, are also welcome. The event is supported by the OpenAIRE Greek NOAD.
By the end of the training event, participants will be able to:
Integrate Open Science and Research Data Management (RDM) practices in their everyday work
Use new tools to comply with EC funding requirements and EOSC Rules of Participation
Have a better undertaking of the legal elements pertaining to Open Science and RDM
Have answers for their Open Science endeavors
Familiarised with the NI4OS-Europe catalogue and the EOSC services
Please note that there is a limit of 80 participants per day, so make sure to reserve your virtual seat before it's gone!
LInks