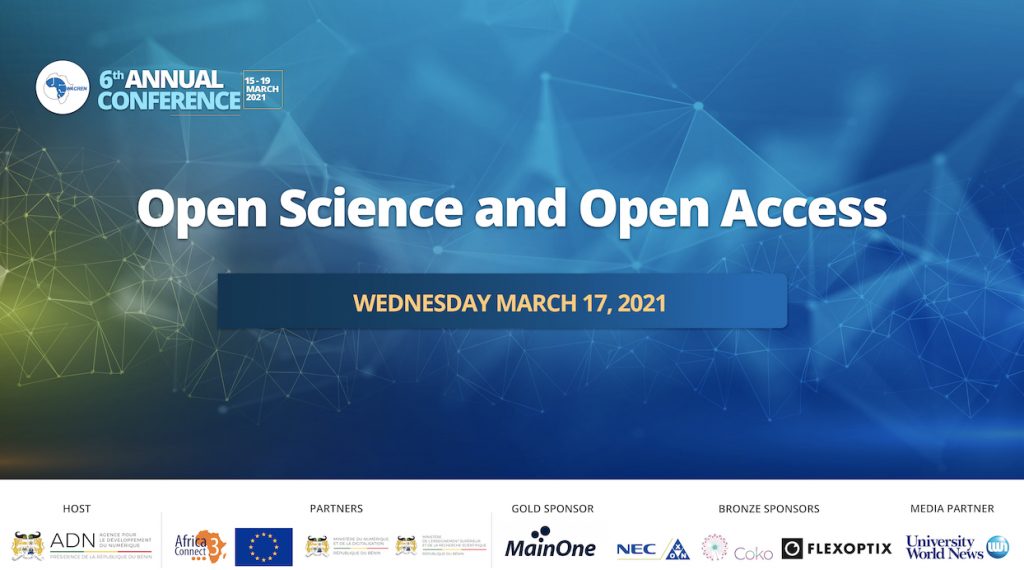 Open Science policies and roadmaps and the international perspectives were the focus of the "Open Science and Open Access" dedicated session of WACREN 2021 online conference, held on 17 March.
The objective of the session was to provide updates on UNESCO's Global Open Science Partnership with international examples of national frameworks, followed by lightning talks from African countries implementing pilots to transition to Open Science, and to launch LIBSENSE national open science policy roadmaps.
NI4OS-Europe provided insights regarding its approach for enhancing Open Science and promoting EOSC at national and regional level, as an example in the discussions for the opportunities and perspectives of Open Science in West Africa.
Session panel and recordings
The recordings of the session are now available ONLINE: https://bit.ly/3sgD4hT
Participants:
Dr. Peggy Efua Oti-Boateng – Division of Science Policy and Capacity Building in the Natural Sciences Sector – UNESCO
Prof. Kazu Yamaji – National Institute of Informatics, Japan
Dr. Ognjen Prjnat – GRNET and NI4OS -Europe
Pamela Abbott – University of Sheffield – LIBSENSE update
Contributors [Lightning Talks]:
Cecile Coulibaly – Côte d'Ivoire
Owen Iyoha – Nigeria
Magreth Mushi – Tanzania
David Bukenya – Uganda
Horacio Zimba – Mozambique
Margareth Gfrerer – Lessons Learned in Ethiopia
Moderator:
Sarah Jones, GEANT
WACREN conference is the biggest rendezvous of all stakeholders of research and education in West and Central Africa. It brings together the richly diverse REN community and ecosystem. The WACREN 2021 theme – 'Digital Transformation for Development', focused on the role digital transformation in revamping infrastructure, application and services RENs offer to all stakeholders in our ecosystem and society as a whole.
The online nature of this year's Conference, which took place on 15-19 March, has made it easy for a richly diverse professionals and technocrats of R&E to attend and share their depth of knowledge.
Links