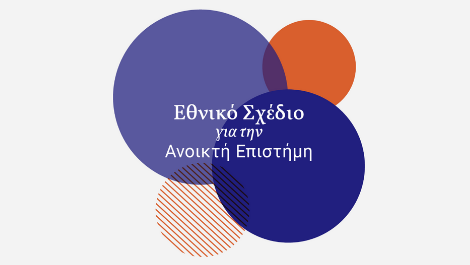 The National Open Science Plan for Greece has been officially published on the 29th of June. The Plan is the outcome of the work of the Greek Open Science Task Force, a bottom-up initiative which brought together the major Open Science stakeholders in the country and was gradually supported by the General Secretariat of Research and Technology.
The Plan forms a comprehensive proposal of goals, policies, commitments and actions for the adoption of Open Science in Greece and the inclusive national participation in the European Open Science Cloud (EOSC). It sets the principles for open access to scientific publications, research data and research software produced by publicly funded research, as well as for open access to research infrastructures and services and their inclusion to the European Open Science and Innovation ecosystem. The aim of this collective effort is to become a reference point for the establishment of a National Open Science Strategy in Greece and a role model for the adoption Open Science principles. The areas covered by the National Open Science Plan are:
Open Access to Scientific Publications
Research Data Management and Sharing
Research Software Development and Management
Reinforcing the National Research Ecosystem
Open Science through National Research Infrastructures and Digital Services for Research
Integration or Alignment with the European Open Science and Innovation Ecosystem
Open Science is the new model of practices, means and collaboration for the production and dissemination of scientific research data with direct scientific, economic and social impact. It constitutes a top priority of the European Union (EU) for sustainable development, improved production and exploitation of research results, collaboration, and the democratization of Knowledge.
NI4OS-Europe, being a member of the Greek Open Science Task Force, has contributed to the development of the National Plan for Open Science in Greece, as part of its coordination actions for setting up an operational framework to support the overall governance of the European Open Science Cloud (EOSC) and its support to the activities taking place in partner countries for the development and inclusion of National Open Science Initiatives.
The Greek Open Science Task Force consists the National Infrastructures for Research and Technology (GRNET), the National Hellenic Research Foundation (EIE), "ATHENA" Research Center, the National Center for Scientific Research DEMOKRITOS, CERTH-Centre for Research and Technology, the National Center for Social Research, the Hellenic Group on Earth Observations, the Hellenic Center for Marine Research, "Alexander Fleming- Biomedical Sciences Research Center and the Hellenic Academic Libraries Link.
In addition, representatives from twenty-six national, European and international initiatives and research infrastructures, such as OpenAIRE, RDA, the Open Technologies Alliance (GFOSS) and NI4OS-Europe are members of the collaboration.
The National Plan for Open Science in Greece is currently available in Greek, on Zenodo.