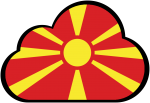 NOSCI Information
Name: National Open Science Cloud Initiative in North Macedonia (NOSCI.MK)
Description: The aim of NOSCI.MK is to bring together all stakeholders belonging to the research community in the country to promote openness at the national level anddisseminate the open science principles. The purpose is to support and emphasize openness as a fundamental value for raising the quality of research and the autonomy of researchers so they can be more closely linked to the rest of society and influence its development. NOSCI.MK aims to build a partnership with the Ministry of Education and Science to contribute to the development and upgrading of national legislation and the incorporation of the open science principles.
The main objectives of the initiative are:

Participation in the EOSC governance and policy making representing the national views and open science development strategies.
Promotion of the national EOSC-related services that can be onboarded to EOSC and thus achieve greater international visibility.
Promotion of the EOSC on-boarded services that are relevant to the research and wider community in the country.
Adoption of the open science principles and their integration in the national legislation and strategies.

Website: https://www.nosci.mk/
Date of establishment: 15/03/2021
Set-up workflow: Hybrid
Governance structure: consortium
Members: The MK is a consortium of universities (UKIM, SEEU, UKLO, UNITE, UGD, UIST, NUBSK, MANU). A task force consisting of representatives of the research community undertook the composition of the "Declaration on Open Science Cloud Research". The institutions that joined the task force are UKIM, SEEU, UKLO and UNITE. The declaration addresses individuals or institutions to express their interest and it is still open for sign.
Related documents: Declaration of the National open science cloud nosci.mk
NI4OS-Europe contact point: UKIM
Open Science Profile
Currently there is no OA/OS policy, but there are plans for creating one. These will be part of the upcoming ESFRI and other related roadmaps. Open Data policy is not institutionally recognized yet, and the awareness and interest by Macedonian academics and relevant institutions towards OA is still limited. Despite the lack of Open Access policies (indeed, there are currently no OA policies registered in ROARMAP (The Registry of Open Access Repository Mandates and Policies), many initiatives have taken place in the recent years. There are currently ongoing/open discussions about a national OSC initiative between Ministry of Education and Science, responsible for research and Ministry of Information Society which is responsible for e-Infrastructures. Other parties involved in the discussions include Representatives from the government and academia and representatives from UKIM.
EOSC Collaboration
Mandated organisation: –
Observer: –
Member: University Ss. Cyril and Methodius in Skopje – Faculty of Computer Science and Engineering (FCSE at UKIM)
Participation in EOSC pillars:

OpenAIRE: UKIM has signed the statutes for joining OpenAIRE recently,
NGI: Boro Jakimovski from UKIM
RDA: –
GEANT: Sasko Mukaetov from MARnet and Anastas Mishev from UKIM
EOSC PROMOTER PROFILE
Every partner country is represented by at least one EOSC Promoter. Click the button below to check out their profile. 
VISIT PROFILE