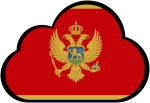 NOSCI Information
Name: National Open Science Cloud Initiative in Montenegro (NIOON)
Description: The aims of NIOON are in accordance with the strategic vision of research activities in Montenegro, based on the principles of Open Science, presented in the national document "Program for the implementation of the principles of" Open Science "in Montenegro with the Action Plan (2020-2022), adopted by the Government of Montenegro in June 2020.
The main objectives of the initiative are:

Creation of infrastructure at the national level, with associated data and services ("Open Science Cloud in Montenegro"), which will be the basis for joining the EOSC.
Promotion of the concept of open science at the national level and inclusion of other relevant research institutions in the NIOON.
Participation in the European vision and activities in the field of open science, which increases the possibility of participation of the research community of Montenegro in Horizon Europe and other similar programs.
Promotion of national research and innovation capacity.
Providing professional assistance and training in the field of Open Research Data Management (ORDM) to researchers from institutions signatory to the Memorandum

Website: –
Date of establishment: November 2021 (est.)
Set-up workflow: Bottom up
Governance structure: A consortium
Members: The NIOON is established in the frame of NI4OS-Europe project, through bottom-up approach, where University of Montenegro (UoM), as a local project partner, coordinates NOSCI activities. The list of the organisations is not completed yet.
Related documents: –
NI4OS-Europe contact point: University of Montenegro
Open Science Profile
Currently there is no OA/OS policy. Ministry of Science is planning to start the process of creating a policy by the end of 2020, with a horizon of development until 2022. A national OSC exists and has been initiated by the Ministry of Science involving the University of Montenegro and other Ministries with the scope of creating a strategy for OS. Additionally, the Ministry of Science has appointed an external advisor, Mojca Kotar from Slovenia, as an official contact to support the process. The joint efforts resulted in the release of the first strategic document related to Open Science in Montenegro, the "Programme of Implementation of Open Science Principles in Montenegro with the Action Plan (2020–2022)". The document was adopted by the Government of Montenegro on June 25, 2020 and it is currently available only in Montenegrin. Other Ministries and national stakeholders in research and academia are expected to be involved in the open consultation. Most mature area of OS is considered to be OA, but it is still lacking a national repository and services to support its FAIRness and EOSC compatibility.
EOSC Collaboration
Mandated organisation: – 
Observer: –
Member: –
Participation in EOSC pillars:

OpenAIRE: University of Montenegro became an OpenAIRE member recently
NGI: –
RDA: –
GEANT: Miodrag Zarubica and Vladimir Gazivoda both from MREN
EOSC PROMOTER PROFILE
Every partner country is represented by at least one EOSC Promoter. Click the button below to check out their profile. 
VISIT PROFILE